About Our Family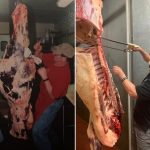 Lonsdale Country Market first opened in 1979 as a family-owned and operated business. As a family of hunters, their passion for game fueled their occupations as local butchers. To them, hunting and enjoying the delicious meats was a lifestyle and the community quickly recognized that. Lonsdale Country Market became known as the local meat market with prime cuts, family-oriented, and community-driven. Today, the same pattern of discipline continues in the Lonsdale legacy. True to the family-owned title, the market is run by parents, siblings, and children. Each generation becomes the apprentice of the last, learning all aspects of the trade and constantly innovating. Today's children are making sausages and checking clients at the register, thrilled to be integral parts of the business.
Lonsdale Country Market upholds their long-lasting reputation as the best meat market in all of South Metro Minnesota. By continuously improving their methods and raising the standard for quality meat, this family has earned the title of best in town. Another significant aspect of this market is its commitment to the community. They provide the best meats and recipes around, but they value each customer who walks through the door. This friendly engagement and sense of community have created a social hub for the town where fellow enthusiasts can find companionship. The Lonsdale Country Market family is humbled by the love that they get from their community. Every day, they strive to continue improving their business and changing the lives around them for the better.
"AT LONSDALE WE MEAT OUR COMMUNITY'S HEALTH REQUIREMENTS"
To learn more about the history and family of Lonsdale Country Market, call today.